We take pride in being the UK's number one Allied Healthcare Agency, serving the NHS and private healthcare sector. Our expertise extends beyond the UK, as we also provide staffing solutions and talent services to healthcare organizations in Australia, New Zealand, and beyond.
Our Mission
Our mission is to collaborate with healthcare organisations to deliver high-quality staffing solutions and services that enable preventative and real-time care.
Our Vision
To improve health for all.
Our Values
Our core values guide our actions and enable us to achieve success for our customers.
Collaboration
Working together in partnership fosters positive communications, trust, effective teamwork and expedites understanding of customer needs and timely solutions.
Growth
We are deeply committed to fostering growth internally and externally. Developing individuals, nurturing diversity, cultivating growth mindsets and long-term relationships to achieve impactful outcomes.
Drive
We are driven to work hard and with a focus to meet our goals and to exceed expectations.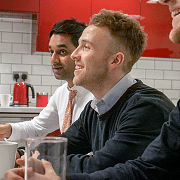 Join our Team
Take the first step on a rewarding career in recruitment and check our latest vacancies.
Our Accolades
2016 - Awarded 11th place in the Sunday Times Virgin Fast Track 100
2017 - Awarded 53rd place in the Sunday Times Virgin Fast Track 100
2018 - Awarded 85th place in the Financial Times FT1000
2019 - Awarded a place on the FT's 1000 Best Companies to Work at in Britain