At Globe Locums, we currently have a large selection of non-clinical jobs on a locum and permanent basis. If you're now looking for a new job opportunity, you can browse our vacancies by visiting our jobs section.
Search Non-Clinical Jobs
An Overview of our Non-Clinical Roles
Here at Globe Locums, we specialise in placing experienced healthcare professionals in both locum and permanent roles around the world. Our dedicated team of professional recruiters are highly experienced in finding the right people for the right roles.
Operating out of Central London, United Kingdom, our team has a global reach. We are able to dispatch non-clinical professionals across the UK and Ireland, spanning a variety of healthcare settings and sub-specialities. We have a large range of locum and permanent non-clinical jobs available for suitable candidates, including but not limited to:
Access to exclusive non-clinical jobs
Preferred supply status with many NHS and private healthcare providers
Jobs across the UK and Ireland
A dedicated compliance officer
Market leading refer a friend scheme
Weekly payroll
Expert consultative service.
Medical Secretary
Medical Secretaries provide administrative support to medical staff. On a day to day basis, your role as a Medical Secretary will involve handling correspondence with patients, answering all phone calls and arranging appointments. As well as providing personal assistant support by writing letters and taking medical notes, ensuring medical samples are correctly labelled and filing and typing up reports.
Medical PA
A medical PA (personal assistant) provides administrative and organisational support to a senior role, such as a medical director, CEO or consultant. The medical PA will perform tasks like answering the phone, setting up meetings, organising the diary, talking to patients, or organising travel activities and expenses.
Medical Receptionist
Medical Receptionists are at the frontline of any medical facility, featured as the primary representative. As a Medical Receptionist you'll handle a range of tasks from greeting visitors, managing appointments and directing patients both in practice and on the phone. At times you may be required to perform clerical work, providing key information to medical staff.
Booking Coordinator
A booking coordinator will speak to patients directly, or deal with referrals on the patient's behalf, and book that patient into an appointment. This job involves a lot of problem solving, especially as it may require juggling multiple diaries and prioritising patients according to their level of urgency. Basic admin like typing and keeping spreadsheets is also required.
Hospital Receptionist
Hospital Receptionists are the face of their hospital. Within this role, you'll be the primary contact for the majority of people as they visit the hospital. Your duties will involve directing people to the right department or location, managing a wide range of appointments and dealing with phone calls on a number of matters.
Hospital Porter
Hospital Porters are often considered the heartbeat of the hospital. Conducting duties such as moving around patients, equipment and samples as well as delivering food and removing waste. Within this role you will directly contribute towards the smooth and efficient running of a hospital, allowing other members of employ to handle their responsibilities.
Hospital Security Guard
Hospital Security Guards are there to ensure that all patients, visitors and employees can go about their business safely. As a Hospital Security Guard, you'll be tasked with ensuring everyone on-premises has a valid reason and appropriate passes, monitoring CCTV, diffusing difficult situations and dealing with day to day security issues.
HR Assistant
Within Healthcare, HR Assistants form a key function, recruiting, hiring and training both new and existing employees. As healthcare can be an incredibly stressful role, HR within healthcare has the crucial task of improving and supporting employee welfare. Within this role you will also manage payroll, maintain employee records and ensure all HR responsibilities are managed.
HR Manager
Within Healthcare, HR Managers perform a crucial role in overseeing all HR practices, processes and strategies. Within this role, you will oversee the recruitment process, implement training programs and ensure that all employees follow best practices and company policies.
Executive PA
Executive PA's in healthcare support and assist the executive team, ensuring that all information is managed correctly, filed and acted upon where required. Key duties within this role will involve administrative tasks, answering and directing phone calls as well as organising schedules.
HR Business Partner
HR Business Partners help to align business objectives between employees and management. Alongside the HR department, you will conduct regular meetings with various departments, consult with line managers and provide HR guidance across the business.
Recruitment Manager
Healthcare Recruitment Managers oversee the recruitment function of an organisation, hiring a range of medical and non-clinical employees to function in demanding roles requiring various qualifications. As a Recruitment Manager, you must have a firm understanding of healthcare with a strong background in recruitment.
Recruitment Advisor
Healthcare Recruitment Advisors support the wider business by sourcing and advising on suitable candidates for healthcare and non-clinical roles. As a Recruitment Advisor, you must be knowledgeable in healthcare with a strong background in recruitment.
Water Safety Compliance Officer
Water Safety Compliance Officers manage all aspects of statutory and legislative water quality and hygiene management. Within this role you will establish PPM schedules for all water systems and manage specialist water hygiene maintenance subcontractors.
Chef
Chefs within healthcare are responsible for ensuring all patients, visitors and staff have highly nutritious and quality food. To succeed within this role, you must have a strong background in food preparation for various medical and cultural needs including gluten-free, low fat, soft food, halal and vegetarian.
Patient Administrator
A patient administrator supports the patient coordination team in ensuring that all patient data and paperwork is up to date and accurate. The administrator will assist in booking appointments, answering the phone, keeping records, finding and filing paper files, and dealing with different departments to ensure a smooth patient experience.
Practice Manager
A Practice Manager manages the day to day business operations of their organisation. Your duties within this role will include providing customer service, overseeing employee recruitment as well as managing training and budgets across the business.
Administrator
Healthcare Administrators oversee clinical and administrative processes and operations across the business. Within this role you must have a strong eye for detail, be highly organised and understand the budgetary and clinical needs of a healthcare organisation.
Facilities Manager
Facilities Managers look after a wide range of services within the business. This can involve agreeing contracts for service providers, supervising cleaning and maintenance teams as well as managing budgets. As Facilities Manager, you must be highly organised and understand the needs of the healthcare industry.
Accommodation Officer
Accommodation Officers help set up housing placements for healthcare organisations. As Accommodation Officer, you must be motivated and highly organised to meet the needs of the business.
Occupational Health Manager
Occupational Health Managers manage policies, procedures and measurement of occupational health and safety within their business. As Occupational Healthcare Manager you must be efficient and experienced in time management and organisation, with a strong understanding of healthcare practices.
Procurement Manager
Procurement Managers oversee their organisation's sourcing capabilities as well as their supply chain. As a Procurement Manager, you will be responsible for finding and evaluating suppliers as well as products and services. You must also negotiate contracts and acquire cost efficient deals, ensuring quality is always at the highest possible standard.
Senior Procurement Manager
Senior Procurement Managers are highly versed in acquiring cost-efficient deals and ensuring that all supplies, products and services they source meet the needs of their organisation.
Head of Procurement
The Head of Procurement oversees the procurement department and ensures that all supplies, products and services are of the highest quality required for the organisation, whilst managing the procurement team.
Key Benefits:
Expert advice
100s of Jobs across the UK & Ireland
Dedicated Consultant and Compliance Officer
£1300 Market Leading Referral Scheme
There has never been a better time to work as a non-clinical healthcare professional. By utilising Globe's free service you will not only benefit from hearing about all the UK & world wide opportunities as they become available but you will also benefit from the excellent rates we pay our candidates.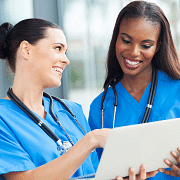 Refer A Friend
Make your friends our friends and earn! Join Globes Market Leading Referral scheme today!
There has never been a better time to work in a non-clinical healthcare role. Due to a skills-shortage, your skills are in high demand. By utilising Globe's free service you will not only benefit from hearing about all the UK & worldwide opportunities as they become available, but you will also benefit from the excellent rates we pay our candidates. Contact our team today to discuss new opportunities.