Best Events to Enjoy if You're Travelling Across the UK This Festive Season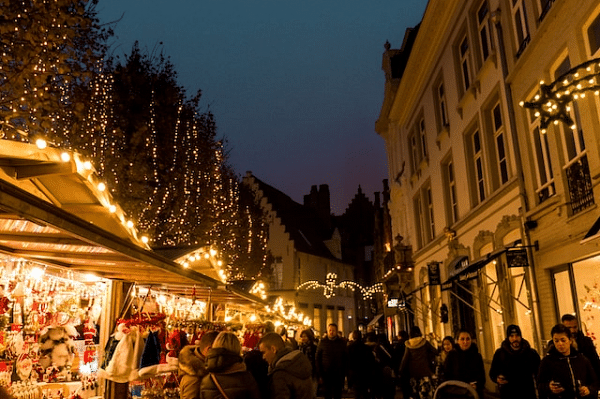 The festive season is a magical time to travel and explore new destinations. If you're planning a trip across the United Kingdom during this joyful time of year, you're in for a treat. From enchanting Christmas markets to thrilling winter activities, there's something for everyone to enjoy. What's more, by exploring Old Blighty you can find some incredible destinations if you're looking to reap the benefits of locuming in the UK. In this article, we'll highlight some of the best events across the UK that will make your holiday season truly memorable.
Best Events to Enjoy if You're Travelling Across the UK This Festive Season
If you're travelling across the UK this festive season, there are plenty of events to enjoy. So, to help you narrow down your choices we've compiled a list of top events and activities to enjoy during the winter months in the UK. Let's take a look at what's on offer for the 2023 Christmas calendar:
Edinburgh Christmas Market: A Winter Wonderland in the Scottish Capital
Edinburgh, the capital of Scotland, is known for its stunning architecture and rich history. During the festive season, the city transforms into a winter wonderland with its famous Christmas market. Located in the heart of the city, the market offers a delightful array of stalls selling unique gifts, delicious food, and warm drinks. Take a stroll through the market, enjoy the festive atmosphere, and don't forget to try some traditional Scottish treats like mulled wine and haggis.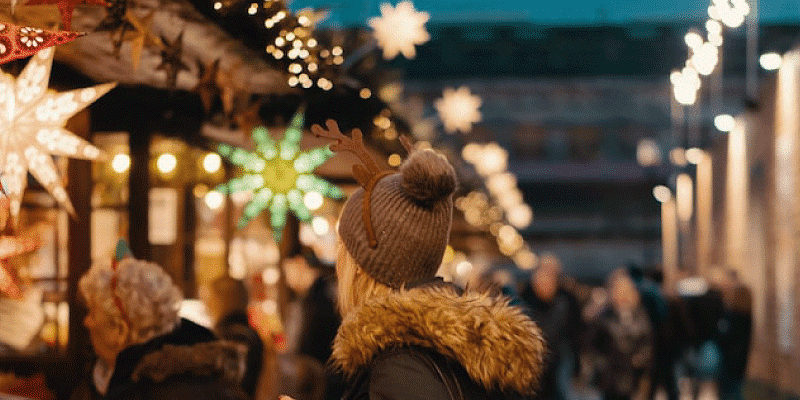 Photo by Ross Sneddon
Aviemore for Xmas: Experience the Snowy Delights of the Scottish Highlands
For a truly magical Christmas experience, head to Aviemore in the Scottish Highlands. Nestled amidst stunning snow-capped mountains, Aviemore offers a winter wonderland that will make you feel like you've stepped into a storybook. Enjoy activities such as skiing, snowboarding, and snowshoeing during the day, and in the evening, cosy up by the fire in a charming log cabin or get involved in a ceilidh. With its picturesque landscapes and festive charm, Aviemore is a perfect destination for a snowy Christmas getaway.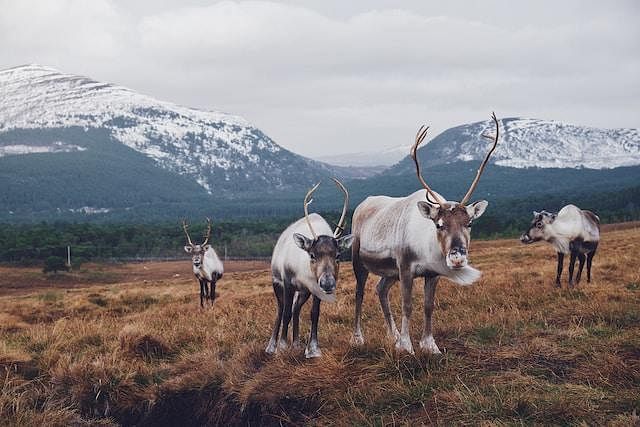 Photo by Joe Green
Christmas at Kew: A Botanical Winter Wonderland
Step into a botanical winter wonderland at one of the UK's most magical festive experiences. Immerse yourself in a world of twinkling lights, dancing reflections, and jewel-like trees, all set against the backdrop of Kew Gardens' stunning botanical collections. From the Fire Garden's mesmerising flickering flames to the larger-than-life illuminations in the Temperate House, there's something for everyone to enjoy. Wander through glittering tunnels of light, admire the lakeside reflections, and meet Father Christmas along the way.
And of course, no Christmas celebration would be complete without delicious food and drink. Along the route, independent street food vendors offer a variety of festive delights, from hot food and sweet treats to spiced winter warmers and hot chocolate. So come and experience Christmas at Kew for yourself. It's the perfect place to create magical memories with family and friends.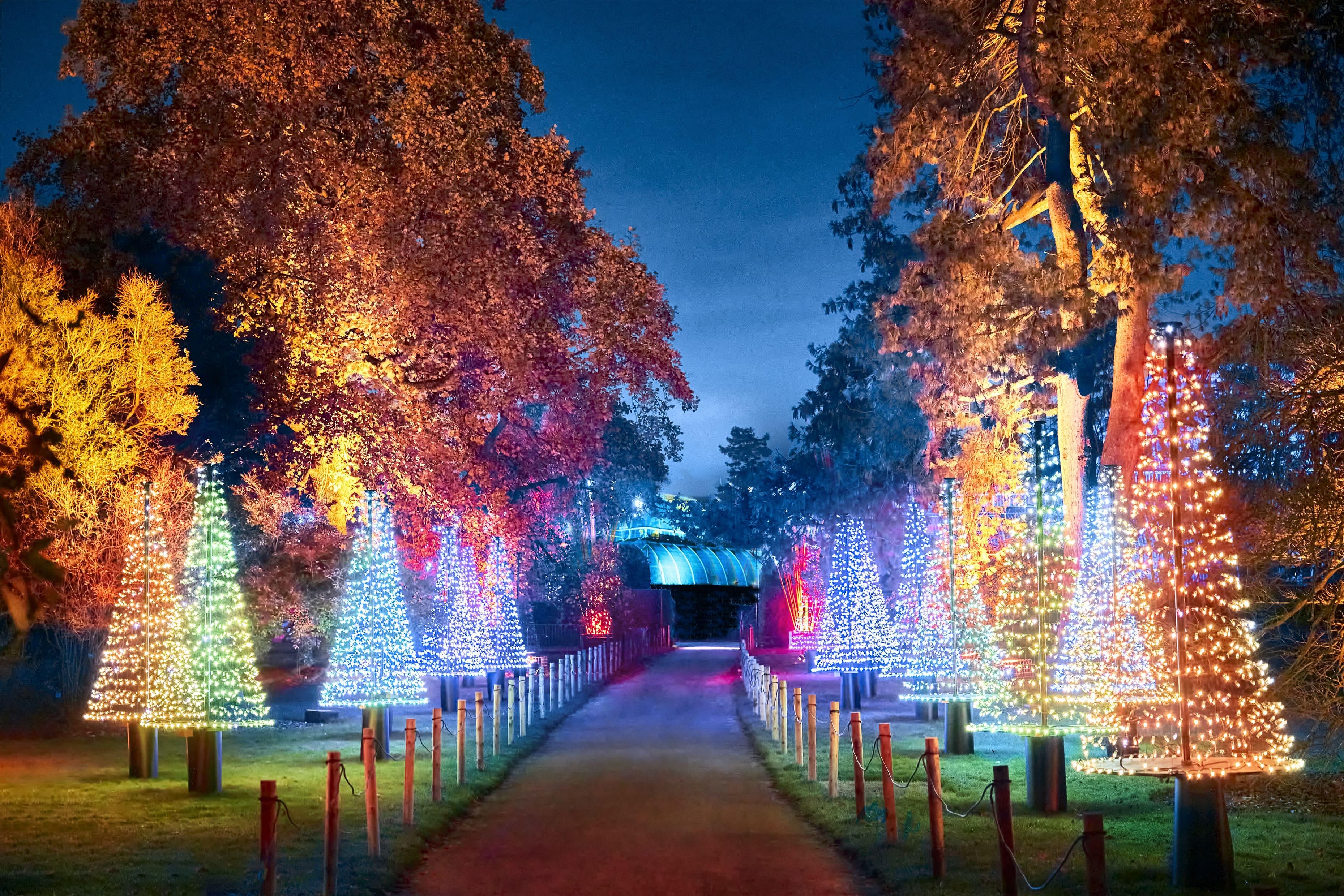 Photo Credit: Christmas at Kew © Richard Haughton
Hyde Park Winter Wonderland: London's Ultimate Festive Extravaganza
In the heart of London, Hyde Park comes alive with the spectacular Winter Wonderland. With its festive rides, ice rinks, and charming Christmas markets, this event attracts visitors from all over the world. Enjoy the dazzling lights, indulge in seasonal treats, and experience the magical ice sculptures. Hyde Park Winter Wonderland also features live entertainment, including ice shows and circus performances. It's the perfect place to immerse yourself in the festive spirit while exploring one of the world's most vibrant cities.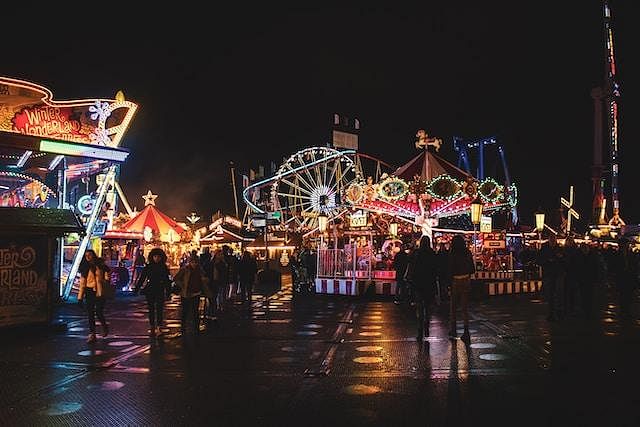 Photo by Devon Rogers
Xmas in Swansea Bay: Coastal Festivities with a Welsh Twist
Located on the stunning coastline of South Wales, Swansea Bay offers a unique Christmas experience. The city's festive celebrations include a beautiful waterfront ice rink, a festive market showcasing local crafts, and a sparkling Christmas parade. Take a stroll along the beachfront promenade, enjoy the holiday lights, and savour traditional Welsh delicacies. Xmas in Swansea Bay combines the joy of the season with the beauty of the coast, creating a memorable festive experience.
Luminate Wales: A Magical Light Festival
Luminate Wales is a mesmerizing light festival held in various locations across Wales during the winter season. It showcases stunning light installations, interactive displays, and illuminated trails that guide visitors through enchanting landscapes. From historic castles to botanical gardens, each location offers a unique and captivating experience. Immerse yourself in the magical world of light, art, and creativity at Luminate Wales.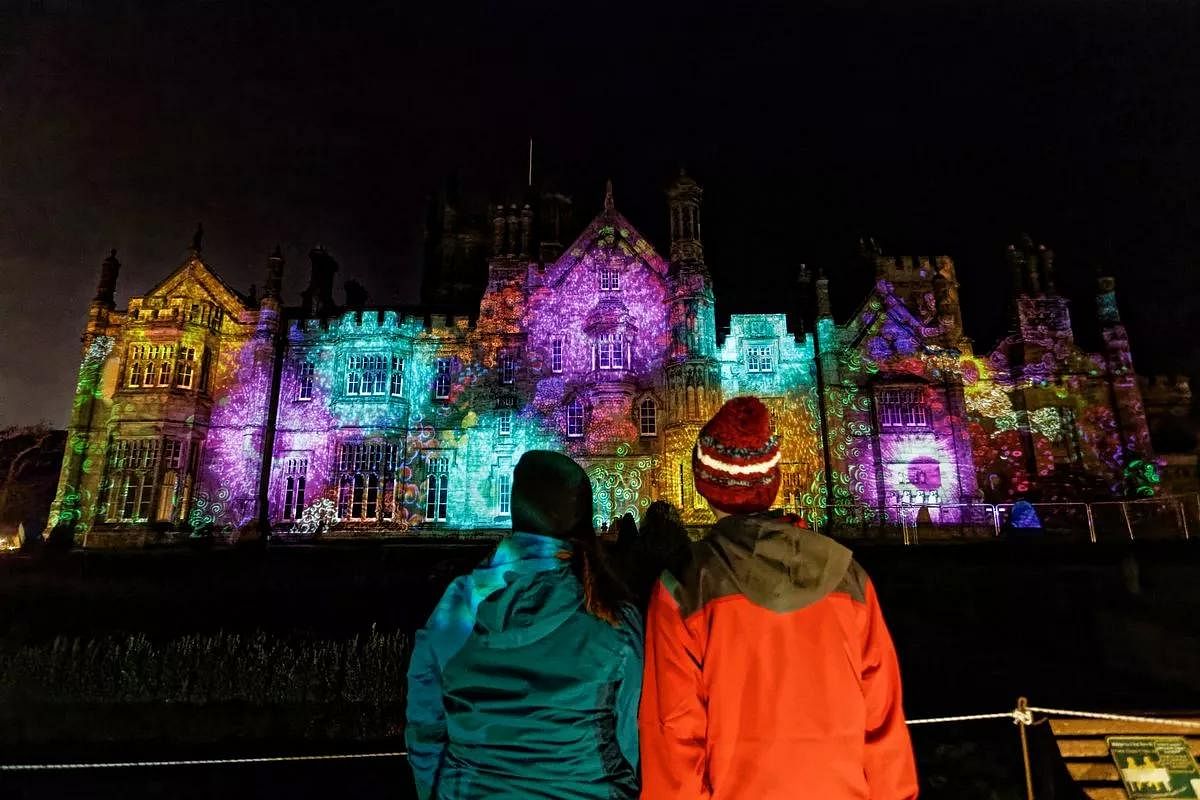 Photo by Athena Picture Agency Limited
Winter Solstice at Stonehenge: Witness the Mystical Celebration
For a truly mystical experience, head to Stonehenge for the Winter Solstice. This ancient stone circle in Wiltshire, England, holds immense spiritual significance and is a UNESCO World Heritage Site. During the winter solstice, thousands of people gather to witness the sunrise and celebrate the rebirth of the sun. The atmosphere is filled with chanting, drumming, and a sense of awe as the first light of dawn touches the ancient stones. It's a truly unique and spiritual way to welcome the festive season.
Enjoy a Pantomime in Belfast: Traditional Fun for All Ages
No Christmas season in the UK would be complete without a pantomime, and Belfast offers a fantastic selection of these traditional theatrical performances. Pantomimes are known for their interactive nature, comedy, and lively music, making them a beloved holiday tradition. From classic fairy tales to modern adaptations, there's a pantomime to suit every taste. Gather the family and enjoy an evening of laughter, music, and festive cheer in Belfast.
Get the Most Out of Your Festive Adventures in the UK
The United Kingdom offers a wide range of festive events that are sure to delight travellers during the holiday season. From the enchanting Edinburgh Christmas Market to the magical Winter Wonderland in London's Hyde Park, there's something for everyone to enjoy. Whether you're seeking snowy adventures in Aviemore or want to witness the mystical Winter Solstice at Stonehenge, the UK provides unforgettable experiences that will make your festive journey truly special. So pack your bags, embrace the holiday spirit, and set off on an adventure across the UK this festive season.
If you're looking for your next perfect locum opportunity in the UK, check out our latest vacancies available at Globe Locums.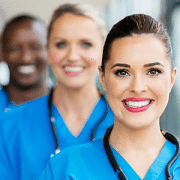 Candidate Registration
Registering with Globe couldn't be easier. Simply fill in the form below and one of our experienced recruitment professionals will contact you within 24 hours